I love helping clients on the journey to retirement! With the right plan it can be one of the most fulfilling times of life. In this post I'll take a look at some of the things to think about. There are only two things I ask of you. 1) Put aside some time. 2) Get a pad and pen dedicated to only this.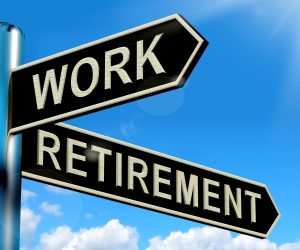 A number of retirement transitions
Retirement for many is no longer about hanging up their boots and hitting the rocking chair. You can now expect to live a third of your life after what would have traditionally been considered the age of 'retirement'. That's means income needs to be found for a lot of years.
As a result, more and more people are mixing a gradual slow down in work with an increase in leisure and family activities. That might be in the same job, or if it's likely to increase their wellbeing, a completely different challenge!
This style of transition means more people can continue to afford their desired lifestyle for longer, but with all the purpose and social activity that work can give.  
Being prepared for retirement
People are busy. So much so that I find most don't sit down early enough to have a good think about how their future might look. Crazy! A good set of starting ideas, even if they become unrealistic over time, can be immensely useful. It's much better to be in the picture about the future you would like, whether you can afford it and if you need to consider things differently.
Here are some questions. The answers should certainly set you on your way to a good plan…
What would you like to do with your time?
What will your days actually look like? How will you spend the time you would have spent at work? When I ask this question some common themes include helping with grand kids and more holidays. That's fine,  but actually looking at your time and considering how much will be spent on each activity can be a really beneficial exercise.
If you work a full time role you will spend at least 1800 (but for lots of people many more) hours a year at work, plus all of the travel time and lunch breaks.  That's some time to fill! A thought provoking task can be to draw up a week planner  – try to fill it with the daily activities that would fill a week in your ideal retirement. This could be harder than you might think.
Other than daily life,  I always encourage thinking big! What are the things you've always dreamed of doing and why do you want to do them? If you've always fancied a trekking the Inca Trail, owning that Harley Davidson or adding that dream extension now is the time to get that on a list. You might just find that what seemed like a pipe dream becomes all the more possible with good planning.
How much will you spend?
An expenditure planner will help you understand how much income you will need to create. I know this sounds really boring – I get it.. but trust me this is the most important bit!! This should include a potential spend for absolutely everything but you can pretty much break it down into three categories –  essential, luxury and aspirational.
Start by reviewing your statements and have a think about how your current spend may change. It's worth creating a 'before and after' list  for the first and second phase of retirement. Things like the cost of travel will undoubtedly change with fewer days in work. Tip – once you've done this put it to one side, leave it for a couple of weeks and then pick it up and review it… and then do that again!  Without a doubt there will be things you have forgotten. I can't stress how important it is to be strict with yourself on this one. That occasional coffee, window cleaner and haircut all adds up to what can be a substantial sum.
Finally, think about your answers to my first question– what would the rough cost of those bucket list items?
What does the pension pot look like?
Get together a value or income projection for all of your pension schemes. You can get a state pension forecast by visiting www.gov.uk/check-state-pension. For your workplace and private pensions things can be a little more tricky, as many now retire after having several employers. I can't count the number of times I've dealt with 10+ pensions for a single client and found other lost ones in the process. As pension schemes can change management many times, this can be a task in itself. This is where the expertise of an adviser can be invaluable.
Are things looking healthy or do you need to do more? Are all of the pots invested in the right place? Do you understand all of your schemes? 
This is of course where people like me come in handy and can help to take away the complexity, but it's definitely worth getting things together and taking a look. Most people who tell me 'they haven't got a clue about pensions', when it comes to it should give themselves more credit. 
What are you worth?
Besides pensions, I always encourage people to keep track of their net worth. It's important because it will highlight what you've got to work with for retirement.
Make a list of all your other assets and their value, whether that be bank accounts, investments, property or premium bonds. Everything of value can form part of the plan and make a big difference to your retirement lifestyle. Those accounts that you've been putting off sorting out will need to work as hard as they can.
If you have any, also make a list of your liabilities. That could include mortgage, loans and credit cards. Prioritising which of these can be cleared will be an important first planning step.
How's your health?
This is an area that people often put off, but 'health before wealth' is a good motto to have. The point of retirement is a good time to make sure you are fully MOT'd, so you can enjoy everything that you've planned for. Make sure you've taken up the offer of your free NHS health check. This is important, because health conditions can increase the retirement income you will get should you take certain forms of income. Importantly, you can ensure there are no nasty surprises ahead.
Your health situation will also form part of the plan in other ways, such as if mobility could cause a necessity to move house or if you may need increased care at some stage.
Who's important?
You may need to depend on family or friends at some point in retirement. This could be as you get further into old age or particularly as health can change rapidly. Discussing this with them can be a good idea and formally appointing them via a power of attorney is always something I would recommend you consider.
You'll also need to make sure you know  who will receive your assets when you've gone and made sure it's in your will.  Getting all of this sorted early will give you peace of mind it's done and out of the way. 
I know this is something that many don't want to think about, but this can cause your family lots of pain and stress! When care is required, there is more death tax being paid than necessary or when no will causes a family bust up many wish they had just done it!
Do you need retirement advice?
Putting all of the above together can sometimes seem quite complex but getting the initial ideas and outline of plan is so important. Speaking to an adviser can help you to understand what position you are in and how you can model your cash flow. You might be surprised at the opportunities you have to live the perfect retirement.
If you feel like you need to speak to someone about any of your answers, I'd obviously love to have a chat. I can't count the number of times it's been my pleasure help my clients map out all of the above and  say the words 'relax, you're going to be OK!'